Songs
These are songs I've written for churches. The song pages have lyrics, chords, audio, video and various downloads.
Congregational Worship
Psalms
Kids/All-age Worship
VBS/Holiday Club themes
If you use any of these songs, please include them in your church's CCLI return.
Introduction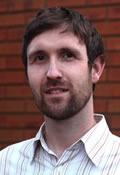 I began leading worship and writing congregational songs in 1998, and I've been director of worship at King's Church Durham since 2005.
I first recorded songs when I was working for Family Worship Resources. I released my own EP in 2014 and began writing for RESOUNDworship in 2016.
My songs range in style and theme from contemporary worship to theological hymns, from congregational lament to zany kids songs.
Links
You can connect with my songwriting via the following websites: